As a project team, we had the opportunity to participate in an interesting URBiNAT conference entitled: "Nature for Innovative and Inclusive Urban Regeneration", which took place on 16 and 17 June 2022 in Milan, Italy. We would like to thank the organizers: CES Centre for Social Studies, Giangiacomo Feltrinelli Foundation, IULM University, ITEMS, GUDA.
Urban development is becoming increasingly promoted with different types of regeneration processes that are compatible with sustainable development, greenery, residents' health, innovative technologies, and social dialogue. URBiNAT focuses on the regeneration and integration of underserved city districts. Project interventions focus on public spaces and the co-creation, with citizens, of new social and nature-based relations within and between different neighborhoods. Using a holistic approach, taking into account the full physical, mental and social well-being of citizens, URBiNAT aims to co-create a Healthy Corridor as an innovative and flexible nature-based solution (NBS), which itself integrates a large number of micro NBS emerging from community-driven design processes.
Nature for Innovative and Inclusive Urban Regeneration (NATiURB) is the first international two-day conference organised by URBiNAT which took place on 16 and 17 June 2022 in Milan. URBiNAT is a five-year EU Horizon 2020-funded project running from 2018 to 2023. The project has three Frontrunner cities, Porto, Nantes, and Sofia, based on their innovative use of public space through nature-based solutions (NBS), and four Follower cities, Siena, Nova Gorica, Brussels, and Høje-Taastrup, sharing their knowledge and replicating URBiNAT concepts and methodologies, acting as "followers".
The project also consists of an international network of Observer Cities and Institutes, Khorramabad City (Iran), URBEM(Brazil), CEMPA (Brazil), Delft University (Netherlands), Cyprus Institute (Cyprus), Setsuan University(Japan), Nanahi City(China).
The first day of the conference entitled: the City conference took place at the Fondazione Giangiacomo Feltrinelli. The conference was held also in a hybrid format.
The morning session consisted of Keynote speeches followed by roundtable discussions on Co-Governance of NBS and Nature for Inclusive and Innovative Urban Regeneration.
The keynote speakers were: Cosimo Palazzo, Secretary General of the FGF, Marie Yeroyanni from the European Commission, Caterina Sarfatti, Director of C40's Inclusive Climate Action programme, and Tomaso Gorini of the Green Europe Parity, Isabel Ferreira for Social Studies – Uniwersytete Coimbra, Blaž Mozeti.
In general debates on the environment as an important factor in the regeneration of urbanised degraded spaces, economic development of cities and neighbourhoods, public participation and political support debated: Nova Gorica – Head of the Department of Environment and Spatial Planning, Zdravko Zdravkov – Sofia – Chief Architect, Clio Biondi Santi – Siena – Councillor, Goura Nataraj – Paranà Assembly– Brazil – Deputy.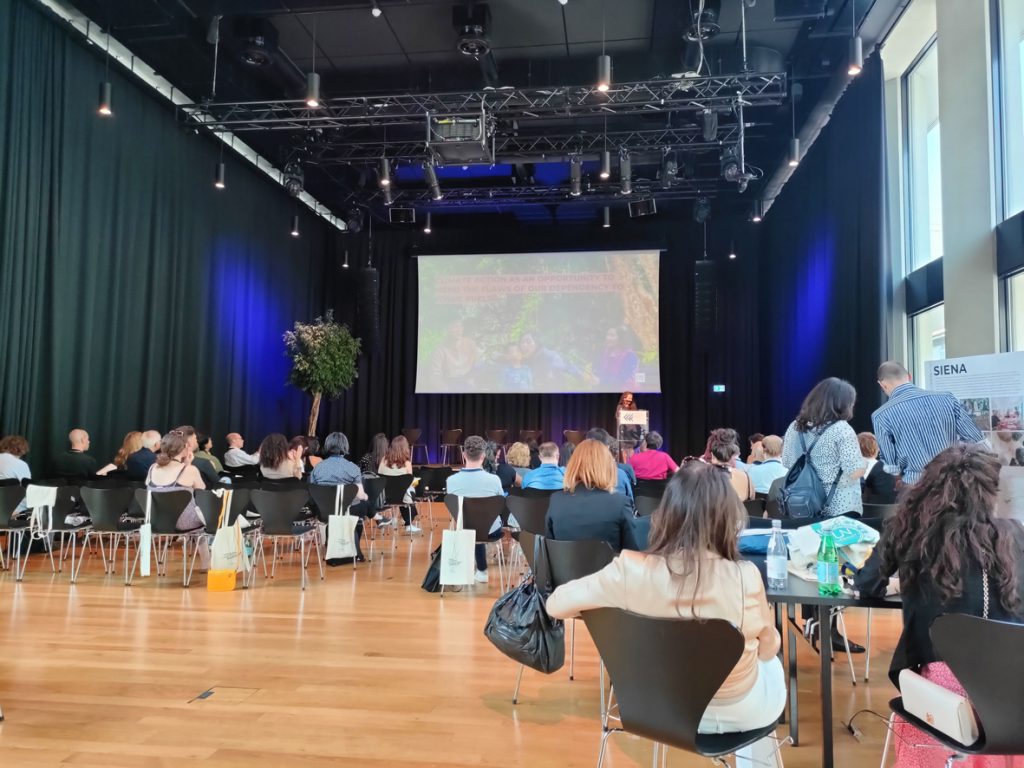 The first day of the conference in Fondazione Giangiacomo Feltrinelli (FGF) building in Milan. Source: IRMiR
The issues that were discussed:
Democratic access to all kinds of innovative technologies supporting climate protection. Public procurement criteria are environmentally-oriented, with different legal instruments, legislation, and recommendations for supporting innovative solutions for public spaces in cities. Economic development of cities minimising climate change. Networking to support decision-making processes. Nature-based solutions have a positive impact on climate improvement in urbanised areas. More environmentally friendly public transport. No barriers in public transport, the energy efficiency of buildings, ecological heating using heat pumps. Smart cities – Hamburg, a network of community gardens connecting people and local communities – London, Milan – green roofs and balconies, urban parks. Adaptation to e-participation, development of the digital network. Local communities are involved in improving urban climate and environment, public participation, and democratic access to green spaces. Cooperation of public institutions, local communities, different stakeholders entrepreneurs, and experts in urban regeneration. Continuation of long-term strategies. Creation of platforms for public participation, debates, and discussions. Protecting cultural heritage. Mutual cooperation at the local, regional and national levels.
During the second part of the conference, URBiNAT Frontrunner, Follower and Observer cities shared their experiences with regard to the NBS and Healthy Corridors co-created in their specific intervention area.
Divided into small groups, conference participants were guided through this city's exhibition by following the logic of the different stages of a community-driven process, from co-diagnostic, over co-design to co-governance of NBS and Healthy Corridors.
There were lively discussions at the exhibition stands of the participating cities Nantes (France), Porto (Portugal) and Sofia (Bulgaria), Bruxelles (Belgium), Høje-Taastrup (Denmark), Nova Gorica (Slovenia), Siena (Italy), and Khorramabad (Iran).
Project descriptions of cities associated with URBiNAT.
1. Porto
To unravel the primary needs and challenges of URBiNAT's intervention area, a participatory process was launched in 2019, involving all local actors, for the definition of local and tailored solutions. This process gave origin to different proposals for the codesign of the Healthy Corridor and its appropriation by local residents, which were then analyzed, through a transparent and collaborative process, to define their technical and financial feasibility. As a result, a series of projects are now being implemented and tested in the territory, led by the local actors, while the Healthy Corridor is about to start its construction phase.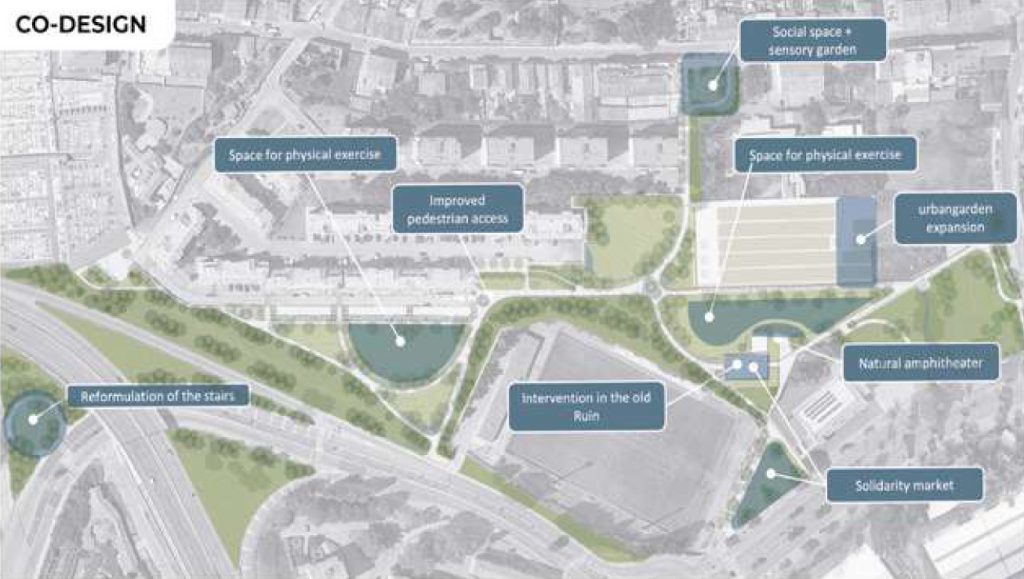 URBiNAT's intervention area – Porto. Source: Nature for Innovative and Inclusive Urban Regeneration (NATiURB) on 16 & 17 June in Milan – Book of Abstracts, p. 20
2. Nantes
The living lab is located in the northwest part of Nantes, in one of the greenest districts of the city: Nantes Nord. Unlike many French or European social housing areas, Nantes Nord is particularly well connected to the city center via a tram line, several bus lines, and secondary roads. Though, as the Local Diagnostic underlined, health and socio-economic indicators are worrying, in a district with one of the highest poverty rates in the city. Parallel to Urbinat, the municipality started to develop an urban "global project" supported by the ANRU, the French Agency for Urban Renewal, with a 121 million euros budget.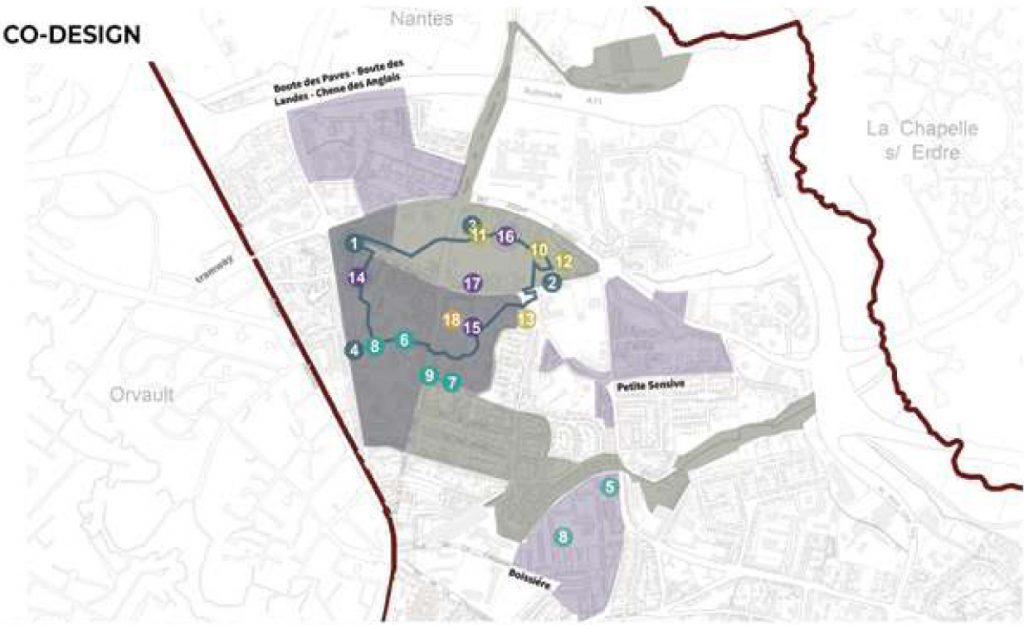 URBiNAT's intervention area – Nantes. Source: Nature for Innovative and Inclusive Urban Regeneration (NATiURB) on 16 & 17 June in Milan – Book of Abstracts, p. 21
3. Sofia
The project aims to improve the urban environment by building a "Healthy Corridor" – a large-scale, nature-based innovative structure that integrates "physical" and "soft" measures to ensure sustainability and mobilize actors and resources to achieve social cohesion. Connecting two urban parks and public transport, the healthy Corridor in Sofia is a linear park with four zones corresponding to four main clusters of NBSs. Each of the zones is characterized by a passive and active subzone. The passive zones are for family gatherings and recreation, while the active ones – are for outdoor games for all ages, sports activities, and public events.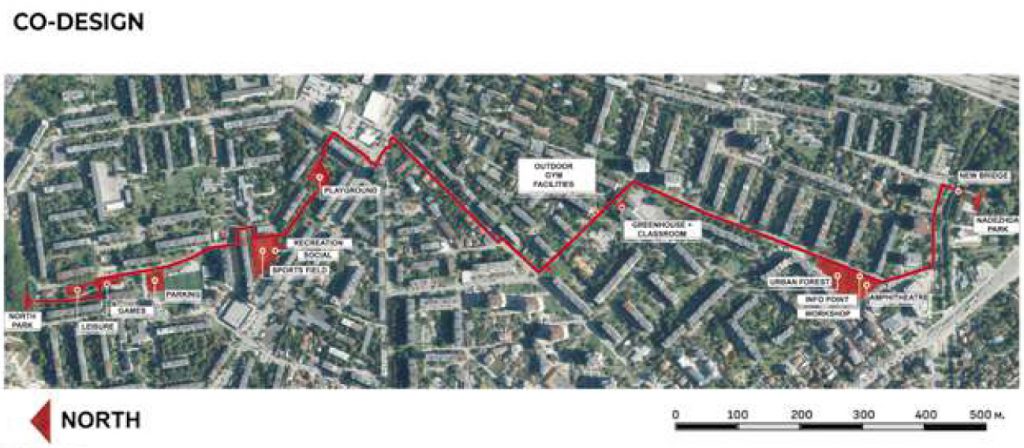 URBiNAT's intervention area – Sofia. Source: Nature for Innovative and Inclusive Urban Regeneration (NATiURB) on 16 & 17 June in Milan – Book of Abstracts, p. 22
4. Høje-Taastrup
The living lab of Høje-Taastrup is located in Gregersen kvarteret, a green neighborhood with areas of private and social housing. The social housing area Gadehavegård will undergo major transformations in the context of a development plan, that will be fully implemented in 2030. At the same time, an urban space project will be carried out nearby the local train station. With the URBiNAT toolkit, the task will be to create a healthy corridor that connects these projects and link the city closer together, based on local diagnostic conducted from autumn 2019 to spring 2022, and through co-design activities with citizens in 2022.
5. Brussels
The living lab of Brussels is located in Neder-Over-Heembeek, a peripheral neighborhood with pockets of social housing and green spaces in what was an old Flemish village before its annexation by the municipality of Brussels in 1921. The territory is complex and dynamic, with a variety of lived realities and challenges. A local diagnostic was conducted from autumn 2019 to autumn 2021, and the results of the analysis were synthesised in collaboration with artists in order to create a coloring map. The co-design phase has now been launched with the aim of co-creation the "healthy corridor" and NBS projects.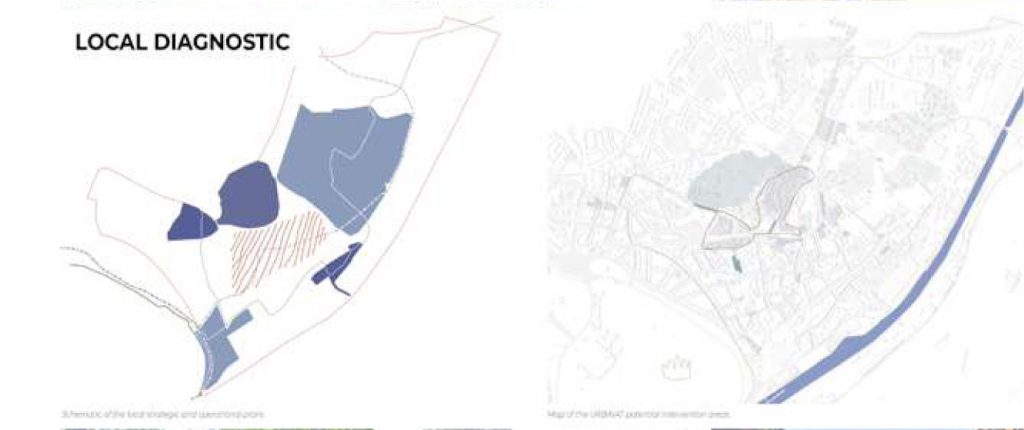 URBiNAT's intervention area – Brussels. Source: Nature for Innovative and Inclusive Urban Regeneration (NATiURB) on 16 & 17 June in Milan – Book of Abstracts, p. 24
6. Siena
URNiNAT in Siena is focused on Ravacciano, a neighborhood close to the historical center, which is separated from the city by a green valley. Despite the good state of conservation, the valley has limited accessibility and the neighborhood looks disconnected from the green area and from the city. URBiNAT seeks to create healthy corridors linking the neighborhood and the city through the green valley, to improve ecosystem services and NBS development. The experience made in Ravacciano aims at engaging citizens in decision-making and identifying good strategies to increase urban functions and services for the community. Moreover, it's expected to provide a replicable developmental model to be implemented in other neighborhoods, in order to improve quality of life and healthy behaviors.

URBiNAT's intervention area – Siena. Source: Nature for Innovative and Inclusive Urban Regeneration (NATiURB) on 16 & 17 June in Milan – Book of Abstracts, p. 25
7. Nova Gorica
Nova Gorica is a young city, situated in the western part of Slovenia, on the border with Italy, between the Alps and the Adriatic Sea. With the neighboring Gorizia (ITA) it forms an urban conurbation. The city is devoted to the enhancement of citizens' well-being by creating more livable environments using Nature-Based Solutions along the Koren stream towards the city of Gorizia in Italy. The URBiNAT activity will go in parallel to the ones for the European Capital of Culture 2025 under the concept of GoBorderless 2025. The establishment of the URBiNAT Healthy Corridor in Nova Gorica aims at reconnecting cultural, social, and environmental historic spots as a way to strengthen citizenship and the integration of the communities along and across the border.

URBiNAT's intervention area – Nova Gorica. Source: Nature for Innovative and Inclusive Urban Regeneration (NATiURB) on 16 & 17 June in Milan – Book of Abstracts, p. 26
8. Khorram Abad
Khorram Abad is a major city in the west of Iran as the capital of Lorestan Province and the center of civilization for thousands of years. It has marvelous natural resources and rich history, but some of the old neighborhoods and suburbs of Khorram Abad suffer from functional, physical, and also economic deterioration. Thanks to Khorram Abad's local potential such as its rich heritage, cultural assets, and vacant lots as a chance for intervention, in addition to the participation of residents in making changes in their living place, there are lots of social and economic opportunities to improve the neighborhoods of URBiNAT study area with using local nature-based solutions (NBS).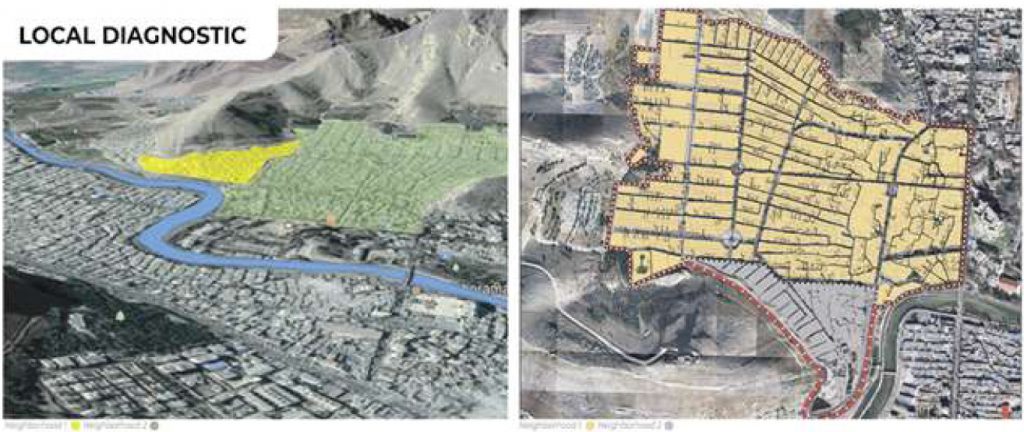 URBiNAT's intervention area – Khorram Abad. Source: Nature for Innovative and Inclusive Urban Regeneration (NATiURB) on 16 & 17 June in Milan – Book of Abstracts, p. 27
The second day of the conference took place on 17 June 2022.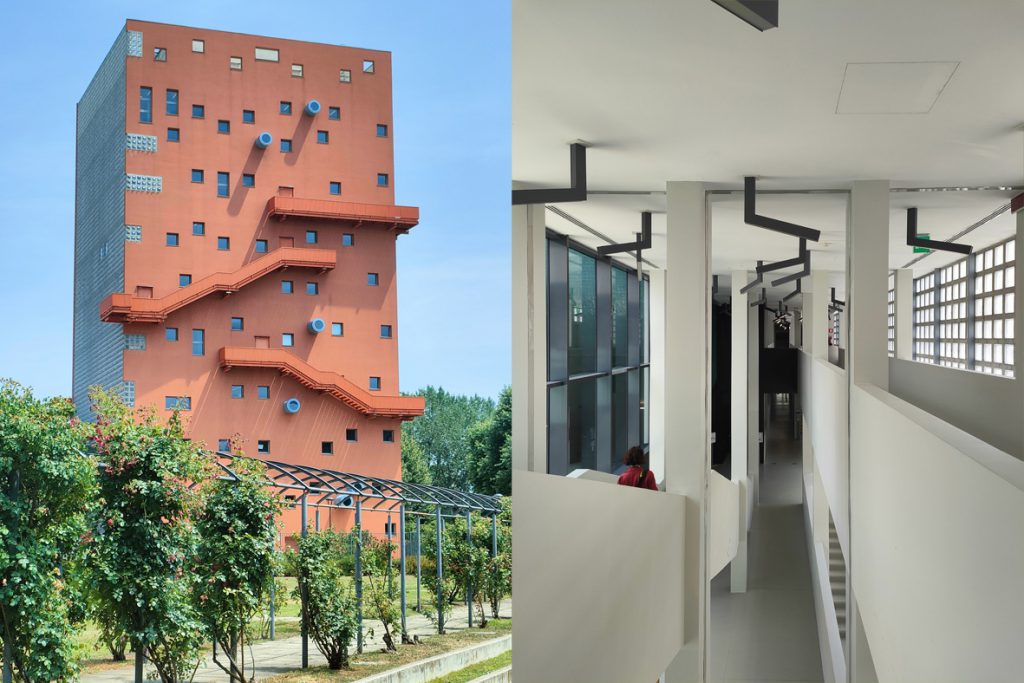 The second day of the conference at IULM university campus. Source: IRMiR
The second day was held at IULM university campus. This Scientific Conference Day was dedicated to the discussion of concepts, methodologies, and practices. Experts from across the world shared their knowledge and experience from diverse perspectives — ranging from academic to urban planning and design to lived experience on the ground.
The Scientific Conference covered the following 5 main themes:
Co-creating NBS for Sustainable Cities
Innovating Public Space for Inclusive Cities
Transforming Governance for Innovative Cities
Engaging Citizens for Healthy Cities
Changing Economy for Equitable Cities
To share some figures of this very intense day:
Within 20 thematic sessions, experts from 31 countries (Spain, UK, Italy, Portugal, Slovenia, Germany, Norway, Cyprus, Brazil, Poland, Turkey, Belgium, Morocco, Hong Kong, Argentina, Bulgaria, South Korea, Netherlands, Taiwan, Switzerland, India, Ecuador, Thailand, France, Romania, Iran, Sweden, Malaysia, Russia, Oman, and Serbia) delivered 83 presentations (in-person and online).
A detailed description of the conference can be found on the project website here
The abstract from the conference is available for download here
or on the EDINA project website here
About URBiNAT project – for more information please find here